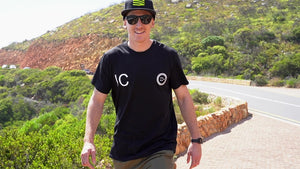 2017 APB World Champion Iain Campbell joins the Bodyboard-Depot Rider Team
Hi Iain, a very warm welcome to the BBD rider team. What attracted you to BBD? 

I have seen the BBD team pop up on my feed a number of times. I went in to see what they were doing as a brand and I saw a very professional approach, which I really liked. The team is made up from some different riders from around the world and I really wanted to be part of it. They are all really passionate bodyboarders and that is what I want to align myself with. 
We gather that your planned trip to Hawaii got cancelled, what happened and what's the 2021 travel plan now? 
Unfortunately yes, my travel plans to Hawaii were cancelled due to people travelling from South Africa not being allowed to enter the USA. So I have taken a bit of a break, until I have a bit of a better understanding of where this year is going. If there are some events towards the later part of the year I will definitely be there. But for now, I would really love to just explore South Africa and what we have to offer or maybe an Indo Trip, if the opportunity arises. 
How has the Covid period been for you and has it impacted on your training? 
It has been a challenge, as I'm sure we can all agree. The past 12-14 months haven't been easy for any of us, and I think we have all had to figure out where we are going. It has forced me to do some things that I wanted to do and hadn't been able to do in so long. Although it was not covid related, I got very sick at the end of the year last year. Thankfully, I was able to get better recently and I am now really looking forward to the future. 
What is your ambition for 2021 and is there anything that you are particularly looking forward to? 
I am really excited to go on a surf trip for nothing other than to get some good waves in places I haven't been before. For so long the competition scene has dominated and I would just love to be able to enjoy a trip without having to focus on that. This year, having no events and me feeling a lot better, could be the opportunity for me to get some waves in places I haven't traveled to. And hopefully Sintra will be on and I'll get to share some waves with the BBD rider team. 
---