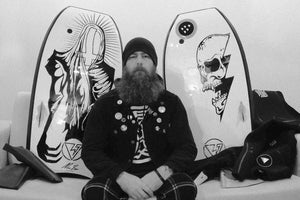 Cerven Cotter joins the Bodyboard-Depot Rider Team
Hi Cerven, congratulations on joining the Bodyboard-Depot Rider Team. Could you tell us a bit about yourself please? 
Thanks for having me, it's good to be working with like minded people. In terms of bodyboarding, I am a dropknee rider, I help the IBC with press/media and I am the digital editor for Movement magazine. The bills are paid via my role as a digital designer. I am a husband, a dad to two boys, have one dog and three cats. I like horror, dark art, punk rock. And coffee.
We gather that you have recently returned to the sport of bodyboarding. What was the reason for the break and what brought you back?
I do not think I ever took a proactive step to move away from bodyboarding, it was just a series of events that saw me move away from it. I have no regrets, as I have accomplished some amazing things and made some incredible life long friends through all the other avenues of my life outside of the sport.
Not really sure how I found it again. When myself and the wife took a trip to France near the end of 2019, I sorted myself a suit, a pair of fins and a board... That was the first time I'd ridden waves in about 20 odd years - the fire was lit.
From there, I reconnected with old friends in the bodyboarding scene - many of whom welcomed me back with open arms, something I'm so thankful for. I've since proceeded to get heavily involved again because I want more people to rekindle their relationship with the sport. I want to see more people discovering it for the first time. There is a lot to do, and now that I'm older and wiser, I feel I can make a much more substantial contribution. That's not to say I won't go about it any differently than I did before... I've already ruffled feathers and I haven't even gotten stuck in properly yet. 
What are your rider objectives for 2021, will you be entering any competitions or going on any trips?
To just get in the water as often as possible and as soon as possible. With us entering the 2nd year of the Covid era, plans aren't something I'm making, just one day at a time for now. Ultimately, all I want to do is get out there, get myself back to the level I was at before I 'retired' and stack clips.
Has Covid had an impact on your ability to get in the ocean and if so do you have any coping mechanisms that you can share? 
Yeah, with the current U.K. restrictions I can't even get down to my nearest spot which is around 25 miles away... in terms of coping with the whole situation, I just don't check the charts or forecasts anymore. I'm focused on improving my fitness through daily HIIT workouts along with yoga. Aside from that, my work and family time are what keeps me sane.
You are a guy in the know. Without giving anything away, what do you see for the future direction of our beloved sport?
They say the future is unwritten... but I do know that all of us who make up the older generation of riders have a duty to keep the art of bodyboarding alive. We need to do more to get the kids and youth stoked on bodyboarding. Sure, you can spend £100's on stand up surf lessons, spend years getting confident enough to actually ride a decent wave... or you can grab a bodyboard and more than likely get barrelled on your first wave. Bodyboarding is instant stoke, in a world where everybody wants everything now, surely it should be the wave craft of choice?
---