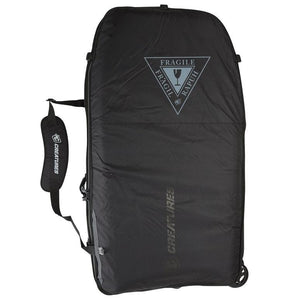 The Creatures of Leisure Quad Wheelie Board Bag just got a makeover
The Creatures of Leisure QUAD Wheelie Bodyboard bag is designed for long term heavy duty bodyboard travel. The four-board capacity cover allows you to travel with the ease of a wheeled bag. The Quad Wheelie Boardbags are now lighter, stronger and more durable with the exclusive Diamond-tech fabric, a custom-made interwoven dobby fabric which is resistant to UV degradation, stable in high temperature ranges and has a hydrophobic coating.
While the Diamond-tech fabric provides superior abrasion resistance, the 10mm closed cell foam padding provides board protection in the event of impact. The Quad Wheelie has heavy duty reinforced inline skate wheels with an extended nylon drag plate. Other features include: Internal and external compression straps, a dual position ergonomic mesh-lined shoulder strap complete with heavy duty metal reinforced clips. Heavy duty carry handles, Slim fit side-wall design which eliminates excess fabric and marine grade corrosion resistant heavy duty nylon zips.
This Bag is the Ticket :)
---